False rape claim man loses compensation bid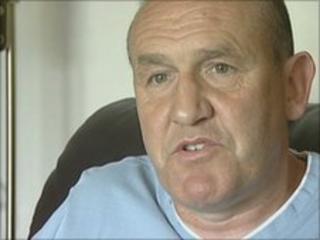 A former Somerset taxi driver who was falsely accused of rape has lost his application for compensation.
Clive Bishop, 50, from Street, has said he lost his taxi business and was shunned by his local community as a result of the claims.
A tribunal ruled last year that Mr Bishop could apply to the Criminal Injuries Compensation Authority (CICA).
But CICA has decided he is not entitled to any compensation because he was not the victim of a violent crime.
Mr Bishop was arrested and charged with raping a woman he had picked up in his taxi in 2007.
The woman later dropped her claim and was given a 10-month prison sentence for attempting to pervert the course of justice.
He said: "It's totally unfair and unjust. I still say now that justice has not been served.
"I think the government and the criminal injuries compensation awards scheme has to recognise the pain and suffering that this type of crime causes to individuals.
"It's just ripped the heart out of me and the last three-and-a-half years have been a total nightmare."
Mr Bishop's solicitor, Russell Pearce, said: "The court decided you had to be a victim of a physical assault. He wasn't and so on that basis they disallowed the appeal."