'Torture' man wins appeal right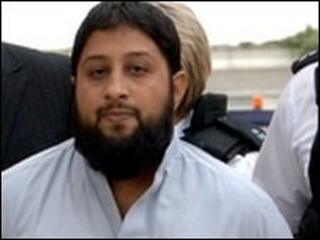 A Briton who says he was tortured in Pakistan with the complicity of UK security services has won the right to appeal against his terror convictions.
The Appeal Court said Rangzieb Ahmed's case needed to be looked at in light of allegations about MI5 and MI6.
Ahmed is serving a life sentence for directing terrorism and being a member of al-Qaeda.
He claims Pakistani interrogators beat him and pulled out his fingernails, and had been fed questions by UK officials.
Joel Bennathan QC, Ahmed's counsel, told the Court of Appeal: "It is submitted that agents of the UK were complicit in the mistreatment and the torture of Rangzieb Ahmed by the Inter Services Intelligence in Pakistan and it is submitted that the effect of that complicity is such that this court should grant leave to appeal against his convictions."
Detention and deportation
Ahmed was watched by counter-terrorism officers between 2005 and 2006 when he was suspected of having close links to al-Qaeda.
In 2006, Ahmed arrived in Pakistan and was later arrested by the country's intelligence services after a tip-off from their British counterparts.
Ahmed alleges that the Pakistani ISI subjected him to almost two weeks of beatings and that some of his fingernails were pulled out over the course of three days.
Shortly afterwards, he was taken to another building where he was questioned by officers from MI5 and MI6.
Ahmed was held for 13 months before Pakistan deported him to the UK, where detectives from Greater Manchester Police arrested him at Heathrow Airport.
At his trial in 2008 there was extensive legal argument, most of which was in secret, over what the jury should hear about his allegations.
The trial heard his account of being tortured, but the full extent of his claims against British security officers and police remain secret.
Parliamentary privilege
The Court of Appeal was asked to look at a statement made in Parliament by Tory MP and former shadow Home Secretary David Davis.
He used Parliamentary privilege in July 2009 to detail the full extent of Ahmed's allegations and to demand an inquiry.
Mr Davis told MPs then: "Once he was taken into custody in Pakistan by the ISI, the Manchester police and MI5 together created a list of questions to be put to him. MI5 arranged for those questions to be given to the ISI.
"After about 13 days, he was visited by an officer from MI5 and another from MI6. He claims to have told them, during questioning, that he had been tortured.
"They deny that, but it is significant that they did not return for further interviews. By that stage, MI5 policy was not to return after any interview in which the subject claimed that he had been tortured.
"I cannot imagine a more obvious case of the outsourcing of torture, a more obvious case of 'passive rendition'."
The coalition government has pledged to hold some form of inquiry into allegations of complicity in torture - although the exact approach that will take has yet to be decided.