Somalia at 50: From heaven to hell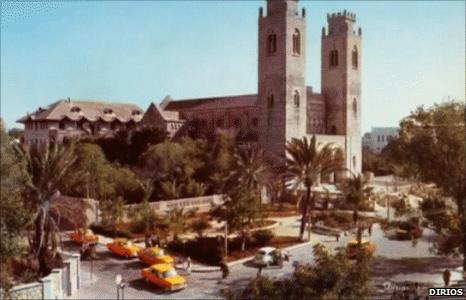 Two Somalis look back on how life has changed during their country's 50 years of independence.
They recall their initial euphoria, reminisce about life during the "good old days" and lament their nation's deterioration, yet dream of hope for the future.
A long time ago, we used to boast that our country was the only one in Africa where the head of state, who had been elected democratically was defeated democratically and then continued living in his own country.
Even when the military took over they only kept him [Aden Abdullah Osman Daar] for a night.
My generation grew up with nationalism and we had faith in good governance.
Education was outstanding. I was privileged.
I got the best quality of education I could've got at home. I was provided with accommodation and all my books.
Us students were even given extra pocket money and so on Thursday nights, we used to go to nightclubs and party. The beauty was that we were five minutes walk from the best club in the city - Jazira. You didn't even need a car.
Those were good times: Boys, girls having a nice time and there was always music playing, be it Western or Somali.
Fashion at the time was fantastic... dressing in summery clothes.
No-one noticed in the good old days.
I had four sisters and my father was a religious man but he never imposed anything on them. They could wear whatever they wished and were all educated.
Fridays were family days.
We used to go about 15km outside Mogadishu to a restaurant we called Abukarow after the man who owned it.
He had a mosque built next door so that families could go to prayers and then come and eat. If you didn't get there early and reserve a table before prayers then you had no chance of being served a meal as it was so popular and always crowded.
We would feast on "dhaylo" - baby goat grilled on charcoal, with heaps of Somali rice all washed down with sour camel milk taken with a little bit of sugar.
But the landmark year for me was in 1976 when the country's focus was on raising our literacy rate. All the schools were closed for a year and instead everyone had to get together and those who knew how to read had to teach those who couldn't.
By 1976, our literacy rate was 95% and the majority of those were women.
It was that generation who became the teachers and the doctors and the professionals.
Somalia's health system was very good back then. There were many who like me became doctors.
During the war with Ethiopia, I was a student at medical school and we were sent to the frontline to help the wounded.
It was the first time for someone like myself, who grew up in the city, to see war.
Those times were filled with such naivety.
We thought we would win and we were winning - for a time - until the turning point.
That was when our naivety changed into maturity.
The refugees who came from the Ogaden changed everything.
Since then nothing was the same.
Former Deputy Prime Minister Osman Jama
I want to pass my congratulations to all Somalis wherever they are.
I remember how we were all so excited.
I was at that time studying at secondary school and we all ran away from school and trekked to Hargeisa just to see the colonial flag pulled down and to watch the Somali flag rise.
I was there and singing songs. Everybody was so happy. We were shouting two words: Independence and unity. Five days after northern Somalia was granted independence, the south and Mogadishu got their independence and we were united.
But then I remember everybody was trying to unify Somalia - the territory that was given to Ethiopia by the British: We call it western Somalia. They call it the Ogaden.
We were all speaking together as one country but of course now it is not like that.
That war was the start of the decline.
But no-one could ever imagine that it would become as bad as it has.
At independence everyone was hoping for something good - to get rid of colonialism and then to find freedom.
But unfortunately of our 123 ministers of parliament, only three had degrees - one from Britain and two from Italy. There was no experience of how to run a state.
So after the colonials left, corruption came and then the military took over to rectify the mistakes of the civilian government.
During the first seven or eight years of military rule, there was continuous development. Life was good.
But once we fought with Ethiopia, the regime became one of nepotism and corruption became rampant.
Everybody became clan-ish.
Clan-based origins took over every part of life - employment, promotions, social opportunities, health, education and so there was chaos.
And this is the result: Statelessness.
But now I believe everything is changing.
We came through clanism, and warlordism and now we have extremism. This is what we are going through now but it is getting weaker.
Religiously we are all Muslims and the same sect: Sunnis. This is what will hold people together. We have the same religion, language and culture.
This is our strength as a people and it will come.
I was in our capital, Mogadishu for 28 years.
It was called the most beautiful city of Africa when I first moved there in 1968. It was the safest and the cleanest. We had the most beautiful beaches. Life was very pleasant.
We were global and developing - the Soviet Union gave us a lot of help.
Mogadishu was an international city.
It was really a paradise.
Now it is a disaster. It is rubbish.
No water, no electricity. Only fighting and war. It is very unfortunate.
It is very painful to see what has happened, what our country has become.
What are your memories of Somalia since independence?