Belfast International Airport - new £1 drop off charge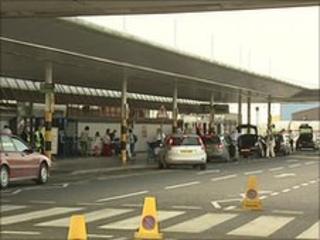 Belfast International Airport has unveiled plans to charge £1 for anyone dropping off or picking up passengers from 7 July.
The charge will only allow motorists to use the new drop off zone for ten minutes, before they have to park.
The airport said it had invested heavily in the zone in the wake of new government guidelines after the Glasgow airport bombing.
The minimum distance between the terminal and vehicle zones was raised.
An airport spokesperson said that it had also doubled the time duration at the lowest rate in the short-stay car park for those who needed to stay longer than ten minutes.
Meanwhile, the Consumer Council's Aodhan O'Donnell said that "this £1 charge is unacceptable".
He said that the council recognised the airport needs to comply with government security guidelines but "it is unfair to charge car drivers £1 to drop off or pick up passengers".
The airport's Spanish owners, Abertis, introduced a £1 charge at another of its airports, Luton, last year.
In its last published accounts, for the year ending December 2008, Belfast International Airport reported profits of over £10.5m.