Slaughter fear racehorse Corran Ard rescued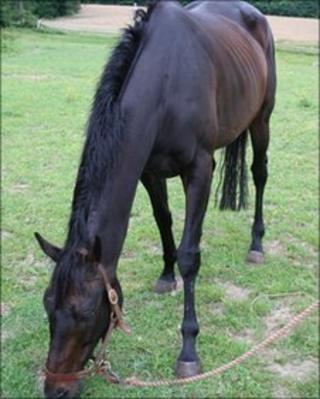 A retired racehorse has been saved following concerns it was being sold for meat in France.
Prize-winning Corran Ard, a nine-year-old gelding previously based at stables in the Vale of Glamorgan, had been retired from racing earlier this year.
But an animal rights campaigner said she saw the horse for sale on a website in France where she believed it was being sold for meat.
She then notified Corran Ard's most recent trainer, and the horse has now been bought by the racing secretary at those stables.
Jenny Lupton, of Equine Rescue France, said the horse was rescued after she spotted it on a French website.
"He's skin and bone. He's got one back foot that is badly overgrown. His back was very, very sore," she said.
"He's very thin, he's very hungry and he's not stopped eating.
"He had lost all interest in the world when I picked him up but he's more like a normal horse again now.
"He's a very sweet horse and he's a very nice horse."
Corran Ard was originally part of the stable of south Wales trainer Evan Williams.
The horse was later sold and trained at the Tim Vaughan stables, based near Cowbridge in the Vale of Glamorgan.
But Corran Ard never fully recovered from a long standing injury and was retired from racing.
The horse was eventually passed on to what Mr Vaughan said he believed was a good home in southern England.
But Mr Vaughan and his racing secretary Mark Gichero were later received an e-mail from Ms Lupton with the news the horse was in danger of being slaughtered.
Mr Vaughan, whose stable has more than 100 horses, said: "Somehow he's ended up in France but we don't know how.
"It was a great shock to us all.
'Major shock'
"Mark Gichero has bought him back and he should be home with us in the next 48 hours and then we will, or Mark will, rehome him."
He said retired racehorses could go on to lead useful lives as, for example, showjumpers.
Mr Gichero, who buys and sells racehorses, said he would not rest until Corran Ard was back home.
"It's come as a major shock. It's been an eye opener about how quickly horses can be passed on," he said.
"The one saving grace is that the horse has not passed through the net and we've been able to do something about it."
He added: "He's got a long life in front of him where he can be looked after."