DNA database lottery in England and Wales 'should end'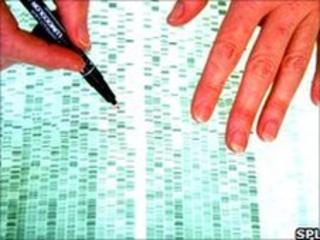 Police forces should treat all requests from innocent people who want their DNA removed from the national database in the same way, a senior officer said.
Currently chief constables in England and Wales can choose to remove data taken from people who were illegally arrested or mistakenly held.
But campaign groups have found that some forces removed many records while others removed none at all.
West Midlands chief constable Chris Sims said it was time for consistency.
The announcement came after coalition government pledged to make changes to the way DNA is collected and handled by the police.
Mr Sims told the Association of Chief Police Officers (Acpo) national conference in Manchester that the body would write to every police chief to highlight existing legislation on the issue.
Mr Sims, Acpo's national lead on forensics, said he would contact senior colleagues within weeks so they could ensure they knew the standard procedures for these "exceptional cases".
He said police anticipated a change in the law and said: "The old legislation was loosely drawn and chief constables are interpreting it on their own terms.
"What I will be doing is, in support of legislation we believe is coming, we will be using the letter to try and generate a level playing field in which decision making operates.
"It is not a radical change of policy, it is making sure it is being implemented in a reasonable consistent way.
"It is not surprising that anything that is wholly based on discretion will not operate consistently because you will run up against different views by different people."
Dylan Sharpe, of campaign group Big Brother Watch, said it was "about time" that innocent people were able to have their removal requests listened to.
"The previous system was a mess, but the simple fact is that no innocent person should be on the database without their consent.
"The government and police should stop holding our DNA to ransom and delete the innocent profiles from the database immediately," he said.
'Going too far'
At the same Acpo conference, Shadow home secretary Alan Johnson accused the coalition government of "creeping complacency" in the face of the threat of terrorism.
He cautioned against removing people from the DNA database and said: "People talk about a creeping complacency in respect of civil liberties, there is also a creeping complacency about the dangers of terrorism.
"If that creeping complacency is taken too far and the government do what they set out to do, it would be taking it too far and it would lead to our citizens not being protected."
Campaigners, including Immigration Minister Damian Green when in opposition, had called for police to remove the profiles of innocent people from the database.
There are believed to be approximately one million such records.
Mr Green managed to reclaim his own DNA from the Metropolitan Police following his arrest in 2008 - as part of an inquiry into Home Office leaks - and subsequent release.
He led an online petition, Return My DNA, to encourage others to have their profiles deleted and called for a system similar to that in Scotland.
There, most DNA profiles must be destroyed if the individual is neither charged nor convicted, unless the suspect was prosecuted for a violent or sexual offence.
Research published by the Conservatives in December 2009 found that South Yorkshire and Wiltshire were most likely to remove a profile following a request,
Forces that refused to remove the DNA profiles of any of applicants at the time of the Freedom of Information request. were Nottingham, Dyfed Powys, Cambridgeshire, City of London, Humberside and Gloucestershire.
In 2008 the European Court of Human Rights ruled that the DNA records of people who had not been charged or convicted cannot be held indefinitely.