Judge jails gun-toting shoplifter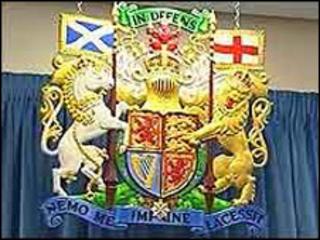 A shoplifter who sparked an armed police response after threatening to shoot a shop worker in the face with a BB gun has been jailed for 40 months.
John McPhee, 20, from Alexandria, West Dunbartonshire, admitted stealing groceries from the Co-op shop in Carrochan Road, Balloch, on 2 March.
He also pleaded guilty to breaching the Firearms Act by possessing the pistol.
The High Court in Edinburgh heard how McPhee was caught after he was identified from CCTV footage.
The court heard how staff at the shop were suspicious of McPhee as he had previously hit the duty manager over the head with a loaf of bread.
When they challenged him about heading for the door with two baskets of groceries he had not paid for, McPhee hauled up the top he was wearing to reveal the black handle of a pistol.
'Very frightening'
After throwing the groceries to the floor he told one shop worker that he was going to shoot him in the face.
A 999 call brought police to the store, including an armed response unit.
Officers later traced McPhee to his brother's house and found the gas-powered ball-bearing firing gun in a rear bedroom.
Jailing him, Lord Bracadale told McPhee: "I accept the gun was not loaded and there was no gas cartridge but the incident must have been very frightening for the staff."