Medals stolen from Devon WWII veteran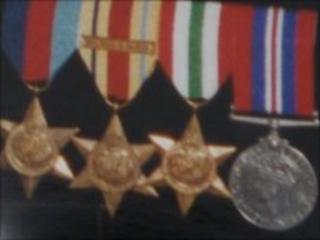 Police are investigating the theft of medals from a World War II veteran.
Ten war medals belonging to the 89-year-old grandfather were stolen in a break-in at his home at Elm Grove Road, Topsham, in Devon, on Monday night.
The medals include four from his time serving with the Royal Engineers in North Africa and Italy.
Three of the medals were his father's, who served in World War I, and another three belonged to his grandfather who fought in the Zulu Wars.
Det Con Tony Kan, who is investigating the theft, said: "This is a despicable crime against an elderly man and these medals have huge sentimental value for him.
"I am making a direct appeal to anyone who has information regarding the whereabouts of the medals, specifically to dealers in medals and acquaintances of the offender."
The name of the theft victim has not been released.