Loss of Saltdean Lido 'would be unthinkable'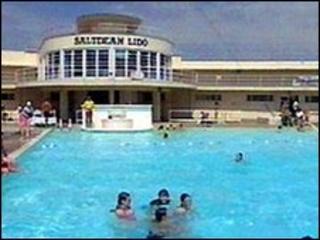 Architects working on a community-led campaign to save a Grade II-listed outdoor pool in East Sussex have said its loss would be unthinkable.
The Brighton branch of designer Sir Terence Conran's firm is working for nothing on plans for Saltdean Lido.
"The main thing we want to do is preserve the iconic view of the lido from the seafront," said Conran and Partners director Paul Zara.
The leaseholder wants to build flats on the site of the loss-making Lido.
Dennis Audley, who has leased the 1930s Art Deco lido from Brighton and Hove City Council for the past 10 years, has said it lost more than £250,000 in five years.
He has said he has no intention of knocking the building down, but the pool would be removed.
'Icon of Saltdean'
Conran and Partners was involved in the restoration of Embassy Court, the art deco landmark building on Brighton seafront.
Mr Zara said the lido was from the same era, but possibly even more important.
"It is the icon of Saltdean," he said.
"Everybody's memory of Saltdean is the lido and the thought of losing it is unthinkable."
The architects are working with Saltdean Lido Campaign on plans to warm the unheated pool and extend its opening season.
"We are helping them with drawings to go with their business plan and really to see if we can bring it out of its gentle decline," said Mr Zara.
"It's got a lot of space at the back, it's got a library, community rooms, a fantastic ballroom and a sun terrace that isn't used.
"It's got some amazing things that people just don't see."