New Shrewsbury food centre short of traders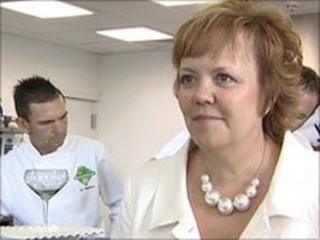 A £7m food enterprise centre for the West Midlands has opened in Shropshire with only two of its 12 business units occupied.
The centre has been set up to support the region's £7bn food and drink economy, offering help to new firms on-site and developing external companies.
But Heart of England Fine Foods (HEFF), who is managing it, said it was not disappointed by the slow take-up.
Sahar Hashemi, who was behind Coffee Republic, opened the Shrewsbury centre.
It has been paid for by Advantage West Midlands (AWM) and Shropshire Council.
Last week, the government said AWM was one of nine regional development agencies across England to be scrapped and be replaced with a new body, possibly later this year.
But the agency's director, Roger Phillips, told BBC News that the new enterprise centre, on Battlefield Enterprise Park in Shrewsbury, was "safe".
Annual running costs - thought to be about £150,000 - have been ring-fenced, he said.
"Fortunately we have an arrangement with Shropshire Council who supported us," he added.
"We put the bulk of the £7m in, they are going to support HEFF revenue costs for the first part of five or six years."
It is hoped the centre will become sustainable after that, a HEFF spokesman said.
'Key aspect'
The purpose of the site is to be a centre of excellence for the region's food and drink producers while HEFF will visit external businesses, providing training and development.
The recent interest in locally-produced, quality food is a key aspect of the new centre, Mr Phillips added.
The centre also has meeting, training and event facilities, a "Taste Kitchen", providing regionally sourced food and drink, and business opportunities for producers.
Karen Davies, chief executive of HEFF, said she was not too concerned at only two business signing up for the units since the site was up and running in February.
Start-up businesses would reap financial benefits from moving in to purpose-built premises, she said.
One tenant sells sparkling wine made in the Midlands and overseas online and employs five people and another makes butter flavoured with ingredients like toasted walnuts and stilton.
"One of the challenges that small food and drink businesses have is finding adequate food-grade ready premises, so by moving into purpose-built facilities, they are actually moving in at a much-reduced cost," said Ms Davies.
"If you think that within 12 weeks we've signed up two new tenants, that's a real positive.
"Further tenants are looking to move in in the next few months... there are tenants thinking about October, November and January.
"It takes time for businesses to relocate."