British soldiers 'triggered suicide bomb' inquest told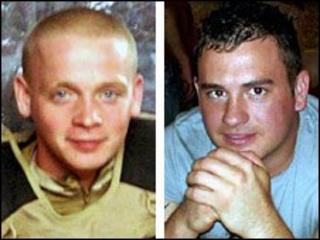 Two British soldiers were killed in Afghanistan as they searched a motorcyclist and triggered a suicide bomb, an inquest has heard.
L/Cpl David Kirkness, 24, of West Yorkshire and Rifleman James Brown, 18, of Kent, died after the blast at a checkpoint in Helmand in December 2009.
The inquest heard an eyewitness account which said that as the soldiers touched the bomber there was an explosion.
Coroner David Ridley recorded a verdict of unlawful killing for both men.
The only eyewitness account heard at Wiltshire Coroner's Court was given in a statement from an Afghan interpreter, who was not named for his protection.
Referred to only as Interpreter A, he said he saw the suicide bomber wait 100ft (30m) away from the checkpoint, as L/Cpl Kirkness and Rifleman Brown searched a blue Datsun car.
"Once the search of the Datsun was completed, they waved the man towards them," the interpreter said.
He said the motorcyclist rode towards the checkpoint, where he dismounted.
He went on: "The two British soldiers moved towards him. As they touched him with their hands there was an explosion.
"There was a loud bang and smoke rising into the sky."
Interpreter A suffered a fracture in the blast and could not remember anything else, the inquest heard.
The medical emergency response team came under small arms fire as they attempted to extract the men, the inquest was told.
L/Cpl Kirkness, of Wakefield, and Rifleman Brown, from Orpington, suffered "severe" blast injuries and died later at Camp Bastion field hospital.
Two Afghan National Army (ANA) soldiers were also killed.
Larger tragedy 'averted'
Major James Richardson, officer commanding B-company, 3 Rifles, said suicide bombers were a known threat, but that no specific intelligence had been received to suggest there would be an attack on that day.
He told the inquest: "The difficulty we face is, if we treat everybody as a suicide bomber, it doesn't allow us to bond with the community."
Following their deaths, senior officers said the men sacrificed their lives to protect Afghans in nearby Sangin bazaar, but this was not referred to in evidence given to the inquest.
Lt Col Nick Kitson, commanding officer of 3 Rifles Battle Group, said comrades took comfort and pride from the fact that they averted a "much larger tragedy".
Members of both families attended Wednesday's hearing, but declined to comment.