Boost for PSNI car number scanner scheme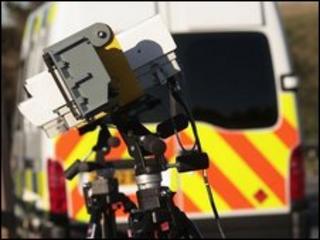 The police in Northern Ireland are to get almost £13m to enhance technology that allows them to track the movements of cars and other vehicles.
The government announced the move on Wednesday.
The PSNI have been using an Automatic Number Plate Recognition system for a number of years, but this will now be improved.
The system can identify cars that are stolen, untaxed or uninsured.
It can also be used to track terrorist or criminal suspects.
Speaking in the Commons on Wednesday, NIO Minister Hugo Swire described it as a "useful tool for the PSNI".
DUP MP Ian Paisley jr has welcomed the statement by Mr Swire.
Mr Paisley said: "This system is crucial in tracking illegal trade and terrorist suspects."
He said that he would be seeking assurances that it would "have no impact on police manpower".
MPs were told that Northern Ireland Secretary Owen Paterson had lobbied the Treasury for the money.
But Mr Swire said that resources may not always be so readily available in the future as there was a "very tight fiscal round".