Jail terms for knife-carrying in Scotland rejected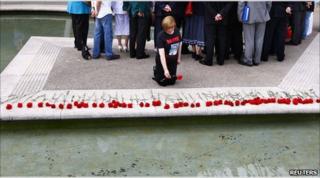 MSPs have rejected legislation to introduce mandatory six-month jail terms for anyone caught carrying a knife.
The move came as parliament debated the final version of the Scottish government's Criminal Justice and Licensing Bill.
During a heated debate at Holyrood, Labour said the measure was needed to tackle Scotland's "blade culture".
Ministers said courts could jail knife carriers for up to four years.
The mandatory jail term measure, championed by Labour, was included in the bill at an earlier stage of scrutiny, but was overturned when MSPs voted narrowly 63 to 61 in favour of a government amendment to strike it from the legislation.
As a group of campaigners, including victims of knife crime, attended Holyrood, Scottish Justice Secretary Kenny MacAskill argued mandatory minimum jail sentences were a one-size-fits-all approach which was not the solution.
He said senior police officers, including Strathclyde chief constable Stephen House, opposed the policy, adding: "Yes, we have a problem that we accept in Scotland with knife-carrying.
"The solution is tough laws, visible enforcement but it's also about education and allowing those at the frontline, the police officers or indeed the judiciary, to use their discretion.
"There's a journey to travel but we are taking action against the booze and the blade."
Labour justice spokesman Richard Baker told MSPs knife crime remained "persistently high" with 3,529 knife carrying convictions last year.
He said campaigners had travelled to Holyrood on Wednesday after more than 30,000 Scots signed a petition calling for mandatory jail sentences for those caught with a knife.
"I don't think they should be ignored," said Mr Baker, adding: "The families are here today. I want to pay tribute to them and their campaign. We should support them today.
"We should do all we can to spare further innocent people from the scourge of knife crime."
Backing Labour, Tory MSP Bill Aitken said action was needed, adding: "We have to save lives.
"We have to save lives from being wasted and it is simply not good enough that we sit idly on the sidelines, which effectively is what the government wishes us to do, whilst this slaughter continues.
"If the word got out that carry a knife and go you to jail then people simply would not carry knives."
Searches 'effective'
But Liberal Democrat justice spokesman Robert Brown argued the threat of prison would not act as a deterrent, saying the cost of jailing 1,345 people for six months would cost almost £321m.
"The single thing which deters people from criminal behaviour is the likelihood of being caught," he said, adding: "The stop-and-searches carried out by Strathclyde Police have been very effective."
Also backing the government, Green MSP Patrick Harvie, said: "There are some things legislation is not good for.
"Distinguishing between a frightened wee boy who made a mistake and knows he has and a genuine thug who poses a threat is something legislation can't do - the courts have to do that."