Dry spell leads to fish rescues in Wales' rivers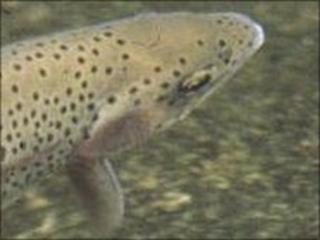 Hundreds of fish have been rescued from Wales' rivers due to exceptionally low water levels.
Environment Agency Wales has gone to the aid of the fish, which have been left in distress by the dry spell.
The agency has responded to a number of environmental incidents, including "serious" cases involving dead fish.
One rescue involved 500 fish from the Melingriffith dock feeder, Cardiff, where they were struggling to survive.
The fish were successfully released into the River Taff downstream of Radyr weir.
Although risk of water shortages remain low this summer, Environment Agency Wales drought manager Alun Attwood said the dry start to the year has caused river levels across Wales to be much lower than usual.
"In some places we've had to deal with some pretty serious environmental consequences such as fish kill incidents linked to poor water quality and low flows," he said.
"We've increased our monitoring of rivers across Wales and we expect to deal with further incidents if the dry weather continues.
"We are also working closely with Dwr Cymru Welsh Water to make sure they are doing everything they can to secure water supplies and manage customer demand.
"Some rain is forecast over the coming days in some parts of Wales but, with the dry conditions expected to continue after this, we urge people and businesses to only use the water they need.
"Every drop will be vital this summer."
Driest start
At Melingriffith, agency staff observed a number of fish in distress in the dock feeder.
Staff rescued about 500 fish - including gudgeon, stoneloach and chub - and eels from the feeder and stocked them onto the main River Taff.
In a separate incident trout were rescued from the Nant y Ffin, a tributary of the River Tywi above Llandovery, and relocated downstream.
The agency is also investigating a number of fish kill incidents in north Wales, including the Black Brook, a tributary of the River Alyn near Mold. The incidents are linked to a combination of poor water quality and low flows.
It has been the driest start to the year in Wales since 1976, but the difference between the current situation and then is that 1976 followed a dry autumn and winter, so the reservoirs had not refilled over the winter.