Plans for Wales-Ireland power link on show in Flint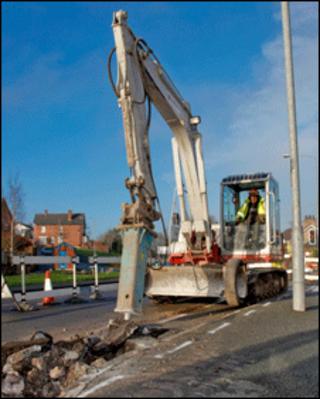 An exhibition detailing plans to connect an electricity cable between north Wales and Ireland has gone on display in Flintshire.
Work on the £560m (600m euros) East West Interconnector is under way and is expected to take three years to complete.
Power company Eirgrid has staged the exhibition in Flint to keep local people informed and answer questions.
It is hoped the 250km (155 mile) cable will carry power for 300,000 homes.
In Wales, the cables will come ashore in the Prestatyn area of Denbighshire, and continue underground to Shotton, Flintshire, before connecting to the UK's electricity grid.
Alan McHugh, of EirGrid, said: "Where the cable comes ashore, it will be buried so nothing is visible on the coastline.
"It will then be laid underground to a converter station which will be located in Shotton.
"The station will change the current to make it suitable for the local transmission network."
The exhibition is at St Mary's Catholic Club, Flint, until 1900 BST on Wednesday.