Ballymena bus builder Wright group secures £7.4m orders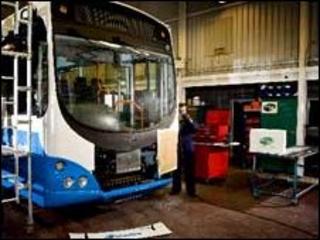 A Ballymena bus builder has secured contracts worth £7.4m for its new bus design.
Wright Group will supply the Mistral Group (UK) with 60 of its StreetLite buses, in a contract worth £6m.
It has also won an order worth £1.4m to deliver 12 to Isle of Man Transport. Wright Group invested over £2m in the development of the StreetLite bus.
It services both urban and rural routes and offers more seats than any other vehicle in its class.
Invest NI provided £616,520 to the company to support the development of the bus.
Enterprise Minister Arlene Foster said: "As one of Northern Ireland's most innovative manufacturing firms, the Wright Group recognises the value to be gained by continued investment in product development.
"This ethos has been of particular importance over the past 12-18 months as the downturn impacted on global sales.
"Clearly, the Wright Group's investments in innovation are now bearing fruit and will continue to support the future growth of the company."