Military honoured in Perth armed forces parade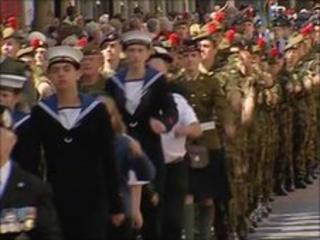 More than 1,000 marchers from the Army, Navy, Air Force and Marines joined pipe bands for Scotland's biggest Armed Forces Day parade.
The centre of Perth came to a standstill as crowds lined the streets to watch the parade.
The event is part of celebrations marking 800 years since the granting of the city's Royal Burgh Charter.
The Earl of Wessex presented six Elizabeth Crosses to the families of people who died on active service.
Four pipe bands, two military bands and Second World War military vehicles also joined marchers from veterans' associations and youth organisations.
'Riot of colour'
Prince Edward took the salute alongside Provost John Hulbert and the Lord Lieutenant of Perth and Kinross, Brigadier Mel Jameson.
Provost Hulbert said: "The parade was one of the major highlights of all the Perth 800 celebrations. It was the biggest parade of its kind held in Scotland this year, and one of the biggest Perth has ever seen.
"I am very proud that I was able to welcome delegations from all of Perth's twin cities to enjoy this unique event.
"It was a riot of colour and noise, and represented all that is best about our Armed Forces and our young people."
Delegations from Aschaffenburg in Germany, Pskov in Russia, Cognac in France, Haiku in China, Bydgoszcz and Ontario in Canada also attended.
The event was organised by 51st Highland, 7th Battalion The Royal Regiment of Scotland.
The Perth-based battalion was given the Freedom of the City earlier this year.
Commanding Officer of 7 Scots, Lieutenant Colonel Ed Chelsea, said it was "tremendous" the battalion had assembled such a large contingent of personnel.
He added: "It reflects the strong links which we in Her Majesty's armed forces have with the population and city of Perth.
"We are also grateful to the youth organisations for their enthusiasm to be involved in the march."