Paedophiles 'increasingly access images from webcams'
By Katherine Sellgren
BBC News education reporter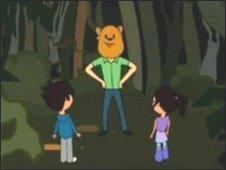 Paedophiles are increasingly accessing indecent pictures of children from webcams, experts warn.
The Child Exploitation and Online Protection Centre (Ceop) says it has seen a "notable increase" in still and moving images captured on webcams.
Ceop warns some of these images may be self-taken, as a result of online grooming, and others are passed on via webcam streaming chat sites.
The centre is also cracking down on paedophiles travelling abroad.
In its annual review, Ceop said the volume of indecent images remained challenging and the rise in pictures captured via webcams was notable.
"These can be self-taken as a result of online grooming, for example, inciting a child to commit a sexual act and then using video capture software to record the video streams for later viewing and trading and/or use as blackmail to ensure further compliance by the child," the report said.
"Similarly, there is also a marked trend of the use of webcam streaming chat sites, enabling offenders to interact either through instant messages and/or webcam to share previously captured footage or live-time images of abuse of children in their care."
The Ceop report said its overseas tracker team - which works to disrupt paedophiles travelling abroad to abuse children - had become "more proactive than ever before".
It said new ways of tracking offenders and better tactical intelligence gathering had seen 58 arrests, deportations or warrants issued.
Ceop's picture of travelling offenders was improving "at pace", it said.
The organisation said it had safeguarded 278 children from abuse between February 2009 and March 2010 - double the number it helped last year.
And Ceop said it had safeguarded a total of 624 children since its launch in 2006, delivering "significant results" in the fight against child sexual abuse.
The annual review also noted that nearly 5.7 million children had taken part in its "Thinkuknow" online safety programme.
Jim Gamble, chief executive of Ceop, said: "Ceop brings together cross-sector expertise and then delivers bespoke front line services to a whole network of practitioners.
"That is real economy of scale and our results year on year show the very lasting and significant impact we are making."
The Minister for Crime Prevention, James Brokenshire, said: "The government is committed to protecting children and Ceop plays a vital role which means more children are safeguarded, more offenders are apprehended and more professionals are trained."
Related Internet Links
The BBC is not responsible for the content of external sites.