Bad winter behind decline in red and roe deer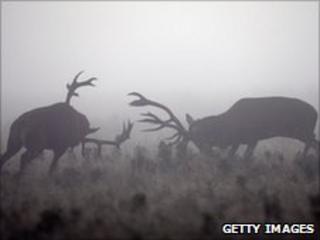 A long and harsh winter has been blamed for a fall in red and roe deer numbers in east and west Grampian, according to the latest deer count.
Carried out by the Deer Commission for Scotland over five days in January, the study included the Cairngorms, parts of Perthshire and Aberdeenshire.
The last count was done in 2005 and involved deer stalkers and aerial surveys using helicopters.
Over the winter there were fears large numbers of deer were starving.
In March, conservation charity the Scottish Wildlife Trust (SWT) said the weather had left many deer suffering through lack of food and called for animals to be culled.
Ian Hope, of the Deer Commission for Scotland, said the results of the latest count revealed local differences in deer numbers, but overall there had been a decline since 2005.
He added: "The count, although extremely useful shows an overview - it's a snapshot in time.
"Deer move around a great deal, but the information does help landowners to manage the deer sustainably."