Ritz 'fraud' jury retires to consider its verdict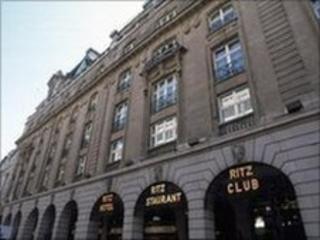 The jury has retired in the case of three men who are accused of trying to sell London's Ritz hotel for £250m.
Patrick Dolan, 68, Conn Farrell, 57, and Anthony Lee, 49, deny defrauding financier Marcel Boerkhoorn and property dealer Terence Collins.
The trio made false promises to potential buyer Mr Collins until he - funded by Mr Boerkhoorn - handed over a deposit of £1m, the court was told.
But two of the accused claimed the sum was linked to a separate property deal.
Mr Lee and Mr Dolan insisted the money was instead part of an agreement relating to a development in Cambridgeshire.
Southwark Crown Court heard Mr Lee convinced Mr Collins he was "a close friend and associate" of the billionaire Barclay brothers, who own the Ritz.
And "an intricate web of deception" led to them promise a sale which was "a complete fantasy", the court was told.
Mr Dolan, of Tottenham, north London, Mr Farrell, of Aldershot, Hampshire, and Mr Lee, of Goole, East Yorkshire, deny conspiracy to defraud between January 2006 and March 2007.