Crime on London's buses 'falls by 8%' in a year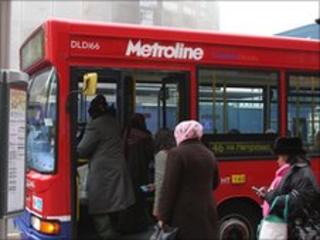 Crime on London's buses has fallen by 8% in the past year, Transport for London (TfL) has said.
There were nearly 25,000 offences from April 2009 to March of this year, compared with more than 27,000 over the previous 12-month period.
Cases of sexual offences and thefts rose by 3% but vandalism dropped 37% and there was a 27% fall in burglary.
Recruiting 440 additional officers to police transport hubs was given by TfL as one of the reasons for the decline.
David Brown, managing director of surface transport, said: "With only 11 crimes per million passenger journeys, Londoners should be reassured that it is safer than ever to travel on the network."
Passengers were "very unlikely to be a victim of crime" on London's buses, he added.