Support for Bangor University research on tough bees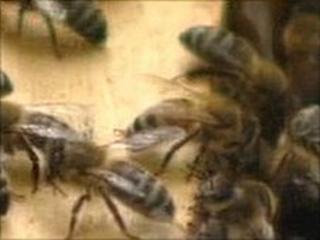 Scientists hoping to breed bees resistant to disease and harsh Welsh weather say they have been inundated by offers of help.
The Bangor University team, who are working with the West Wales Bee Breeding project, want to know about feral bee colonies around Wales.
The project aims to use the genes of the "tougher" bee colonies to breed genetically hardier varieties.
As they follow up information they still want to hear about wild colonies.
"The fact that these feral colonies can survive without medication and feeding by beekeepers suggest that they may be a source of very useful genes," said Dr Anita Malhotra.
"We have also been told about managed bees from lines going back a long way, or which have particularly interesting characteristics - one of which is apparent resistance to the parasitic varroa mite," she added.
Another useful trait is that which adjusts egg laying to suit the prevailing conditions.
"This characteristic is important in the changeable weather we get in Wales, so that the bees don't starve when the weather turns bad, because they need to feed a very large brood nest whilst they can't forage," Dr Malhora added.
Beekeeper Pete Haywood of Edern near Pwllheli said the Lleyn, Eifionydd and Meirionydd areas of Gwynedd had dozens of feral colonies.
"They are in trees, building and abandoned hives," he said.
"I no longer treat my bees against varroa and most of them have remained totally untreated for almost two seasons, a few much longer," he added.
A website has also been launched for the project.
Limited funding means that at present colonies cannot be paid for, but the team hope to visit colonies that seem particularly promising, and take nucleus colonies which will raise their own queens.
These so-called "nucs" will then be left in place until the queen has mated local drones before they are moved to a specially established apiary in mid Wales, where they will be kept over the winter.
Next year the team plan to compare the performance of these colonies to choose the best for the breeding programme.