Gosport to Fareham bus link preparation works begin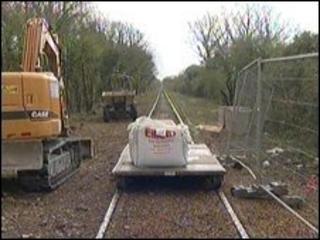 Work has started on a temporary road system to prepare for a rapid bus route in Hampshire.
An embankment is being created to divert traffic in Fareham while the Bus Rapid Transit (BRT) system linking Gosport to Fareham is built.
The work is starting now to avoid overlapping with work on a new Tesco store.
The £20m scheme got the go ahead after a legal challenge was thrown out by the Court of Appeal earlier this month.
Hampshire County Council said a temporary embankment in Palmerston Drive would take six weeks to build.
It will be used to divert traffic from Newgate Lane, once work starts there, so that two-way traffic can be maintained.
Environment councillor Mel Kendal said: "It has always been our intention to try to avoid any clash of roadworks required by the Quay Street and BRT schemes, and while legal proceedings associated with a technical challenge to the planning consent for BRT have made this more difficult, we are determined to do what we can to keep traffic in the area moving."
Work on BRT was halted in December after resident Vivienne Morge won the right to appeal.
The route was approved by county council planners last year but resident Vivienne Morge argued it would have a devastating impact on wildlife.
Her appeal was thrown out on 10 July.