Stereophonics singer's new nickname for Sir Tom Jones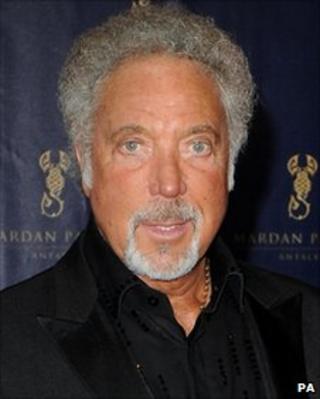 Sir Tom Jones has turned his back on the rock n' roll lifestyle to such an extent he has acquired a more sedate nickname.
'Jones the Voice' revealed that Stereophonics front man Kelly Jones had dubbed him 'Tommy Eight Hours' because of his need for sleep.
But despite his nocturnal habits, Sir Tom, 70, admitted he still liked a drink or two at home in Los Angeles.
The singing legend has developed a taste for Welsh imported beer.
In an interview with TV Times magazine, Sir Tom said: "I do enjoy a drink but if I've got to do something the following day then I've got to get my eight hours sleep.
"In Wales we call everyone by their nicknames, like I'm 'Jones the Voice' - and Kelly Jones from Stereophonics has got a new one for me.
"He calls me 'Tommy Eight Hours'."
Sir Tom, who recently turned 70, still enjoys a taste of home - which is helped by the fact he can get his hands on imported beer.
"Nowadays they import quite a lot of British beer and you can even get Welsh beer," he said.
"They haven't got Brains yet but I'm drinking Felinfoel Double Dragon and it's great.
"It's the closest thing you can get to Wales without actually going there."
He also said that his love of beer had helped keep him away from drugs.
"I was never interested in drugs because I've always liked a drink," he said.
"I love the taste of British beer; you know, real beer on tap.
"I don't want someone pouring me a drink of something that I don't know. And I think that with drugs it's like that.
"I wouldn't want to take a chance on something where I don't know what the effect will be."
Sir Tom said he was also now turning a blind eye to certain items of clothing that are often thrown at him.
He said: "The thing that hits me the most is the sexual part on stage. You know, the knicker-throwing and all that.
"That overtook the talent, which is something I never meant for it to do. I always thought that my voice could push through anything, you know what I mean?
"These days, if people throw things on stage then I don't bother with them."