Call for new bridge in Machynlleth after lorry damage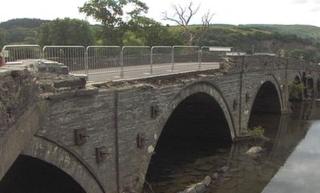 A call has been made for another road crossing after repeated damage to a 200-year-old Grade II-listed bridge.
Part of a side wall on the Dyfi Bridge, on the outskirts of Machynlleth, and which links Powys and Gwynedd, was knocked down by a lorry last Friday.
Town and county councillor Michael Williams said it was regularly hit by vehicles, and it flooded in wet conditions.
The Welsh Assembly Government said it was looking at options to improve it.
As a listed structure, repairs to the side of the bridge must be made using the original stonework.
The bridge will be closed on Thursday and Friday while a crane recovers parapet stone from the river bed. The crossing is on the main A487 road, and diversions will be put in place.
Mr Williams said the bridge was built in 1805 for horse and carts, and not for 40-tonne articulated trucks.
"I understand the assembly government is looking at strengthening and improving the bridge, but I also understand [historic monuments agency] Cadw has concerns because it is a listed structure," said Mr Williams, a former mayor of Machynlleth.
"What we really and truly need is a new bridge across the flood plain.
"I wouldn't want to demolish the old bridge, but a new one should be built in a new location. The old bridge could then be used by pedestrians and cyclists."
He added: "Many people living on a B road in the Llanwrin area (near Machynlleth) are concerned about the volume of traffic when the bridge is closed due to flooding, and vehicles are diverted through their village. That can happen three times a year.
"There's also damage, damage, damage to the bridge - this is not doing any good. It was hit at least twice last week, and is hit all the time."
An assembly government spokeswoman said: "The repairs to the structure are classed as an emergency and it is planned to have the work completed as soon as possible.
"We are looking at options for strengthening and improving this crossing."
Barriers were put in place on the bridge as a safeguard following the latest incident last Friday, and there are diversions for lorries. Traffic lights have also been put up.