Lincolnshire smallholder convicted of animal cruelty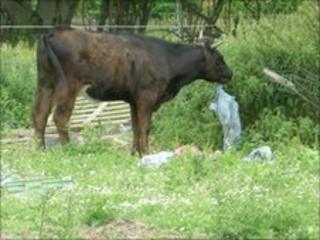 A Lincolnshire man has been sentenced to 240 hours of unpaid work after being convicted of animal cruelty.
Kevin Wright, 44, of Cottage Farm in Skendleby, was given two custodial sentences of nine and 24 weeks, suspended for two years.
He was ordered to pay £1,500 costs to Lincolnshire County Council and given a 10-year ban on keeping animals at Skegness Magistrates' Court on Tuesday.
Ian Newell, from the council, said some animals had to be put down.
He said: "Despite our best efforts to work with Mr Wright to improve the living conditions of his livestock, we continued to find animals left without shelter or clean water and in a poor state of health.
"On our last visit before taking the animals away, four piglets had to be put down because they were so ill.
"Thankfully, having to take this kind of legal action is rare, and most farmers and smallholders take the welfare of their animals very seriously."
Wright was convicted of 36 offences relating to animal welfare and movement of animals.
Lincolnshire Trading Standards officers and vets said that when they visited the property they consistently found animals left without food or clean water and living in poor conditions.
They said they had also discovered cows eating plastic and a pig with a hernia the size of a melon, that had been left untreated.