Work begins on Donald Trump's 'greatest' golf course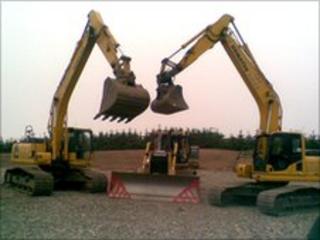 Work on Donald Trump's controversial golf course in Aberdeenshire has got under way.
Councillors gave the go-ahead to the latest stage of the US tycoon's golf development plans on Tuesday.
It mainly concerned the championship golf course, including associated developments such as a driving range.
Work on the course element began on Thursday as machinery moved in. Plans to build a hotel and hundreds of homes are still to go before councillors.
Billionaire Mr Trump has vowed to build the "world's greatest golf course" at Menie to the north of Aberdeen.
Some local people have refused to sell him their properties.
Mr Trump predicted last month the ribbon on his golf resort would be cut within 18 months.
He believes the total cost of the project is likely to be about £750m.