St Helier central market post office closure delayed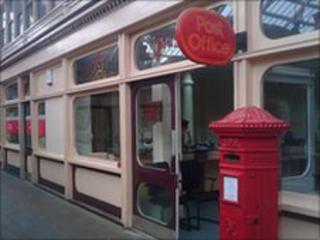 Jersey's central market sub post office will remain open until the autumn, Jersey Post has said.
The branch was to close as Jersey Post wanted to "cut losses of £1m a year".
After the States requested the impact of the closure be examined further, it will stay open until October.
The firm said any decision by Jersey Competition Regulatory Authority to increase bulk mail providers will then determine the future of the branch.
Mike Liston, chairman of Jersey Post, said: "The board shares the concern among States members about the public impact of sudden and forced changes in the postal service.
"However, although important, the central market post office issue is small compared with the wider consequence of the extraordinary proposal by JCRA to open up, in a single step, practically all of the only profitable part of the postal market without the caution of staged liberalisation, as adopted by regulators in other jurisdictions."
The competition authority has said there is demand for increased postal service providers in Jersey.
It is due to decide whether to grant licences to two new postal operators, who would provide bulk mail services, by the end of October.