Festivals feel the star strain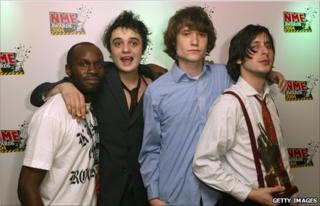 If the line-up for UK music festivals is a closely guarded secret, the amount headliners are paid is even more so - even after the event.
Sometimes though figures leak out - such as the £1.5m The Libertines are reportedly being paid to reunite on the main stage of the Reading and Leeds festival this August.
The Guardian newspaper originally quoted the figure. Festival Republic, who run the event, won't confirm it but organiser Melvin Benn says the fee will be "worth it".
But organiser Melvin Benn says: "The Libertines getting back on stage together is an event in music history, we're happy with the sum that they're getting to do that and we certainly think it'll be worth it."
The Libertines are actually second on the bill - the three headliners this year at Reading and Leeds are Guns 'N 'Roses, Arcade Fire and Blink 182.
The event has sold out - but again, according to Mr Benn, the pressure for any festival organiser to get their headliners right is immense every year.
"Only Glastonbury is bigger than its headliners," he maintains. "And that's the biggest festival in the world. If we didn't get the headliners right one year and there were complaints, I still think we'd sell out - but the pressure would really be on the year after."
But even Glastonbury suffered in 2008 when it booked Jay-Z as a headliner and didn't sell out beforehand. The event's organiser, Michael Eavis, this year confessed he was worried they'd go bankrupt because of it, admitting they had "no reserves".
They took no chances the year after - offering tickets for 2009 as soon as the 2008 event was over.
However, Eavis's traditional handwritten letters to potential headliners do seem to have their desired effect - stars often agree to play Glastonbury for "next to nothing" just for the honour. Others have to pay for the pleasure of pulling off a real musical coup.
Sold out
This year, the Download Festival celebrated 30 years of rock music at Donnington. Top of the bill were AC/DC, Rage Against the Machine and Aerosmith.
AC/DC, who sold nine million copies of their last album, Black Ice, have just finished a sold out world tour. They had their own stage for the event - and rumours abounded in the music press that they were being paid anything up to £3m to perform.
Again, no figure was confirmed, but Download's organiser Andy Copping was jubilant that he had a sold out event of 110,000 people.
"AC/DC don't do festivals. Ever," he said. "They don't need to. Every other organiser in the world was asking me, 'how did that happen?'. I don't know quite how we pulled it off, but then I've always known God is a rocker."
With weekend tickets for major music festivals costing anything up to £200, some of the cost of booking big acts seems to have been passed on to the consumer, but Liz Barnes of Planet Rock radio thinks that by and large, the public are happy to pay for what they want.
"It's the whole festival lifestyle that we've bought into as part of the summer. And there are so many events now, and only a finite number of acts available to perform, that you've got to pay out to get who you want."
Bankruptcy risk
So are bands laughing all the way to the purchase of their next Pacific Island with the proceeds of one gig? Not according to artist Example, who has a Top 5 hit with Kickstart. He's also playing at festivals including Wireless, V and Bestival.
"All in all I should play to around 200,000 people this summer," he estimates. "But no one's selling as many records as they used to, and live events are bands' way of making money now. You can also lose a lot of money going on your own tour as well.
"Okay, someone may get £200,000 for headlining a festival, but that might actually just keep that band going for the next few years. And people also forget the years of graft these acts have often put in for years before hitting the big time."
There are those within the music industry who warn some festivals will inevitably go bankrupt due to these fees - and some have already gone bust, from the Glade Festival, to Killiow in Cornwall in 2008, and the Beachdown Festival in Sussex last year.
Beachdown's director, Joe Pidgeon said at the time he was forced to axe it because they couldn't raise enough funds from the banks.
Almost half a million pounds had been paid to suppliers in advance - £80,000 of it to headliner Grace Jones.
The bigger, more established events are seen as safer - as long as tickets continue to be snapped up. And with that in mind, their organisers are already working on their 2011 headline acts.