Parents protest over Ceredigion school closures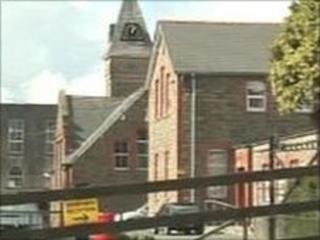 Parents and members of several small communities have staged a demonstration over a decision to shut six schools.
Ceredigion council's cabinet, which has backed the creation of an "all-through" school in Llandysul, said parents were consulted.
It means the town's secondary school Ysgol Dyffryn Teifi, its primary school and four in the surrounding area are expected to close.
The protest was being staged before a full council meeting in Aberaeron.
Two amendments which could have resulted in the decision being reconsidered by the cabinet were defeated, said the council.
The new Welsh medium school would be designed to educate children from the ages of three to 19.
It is planned for a new site in Llandysul, but this means shutting the town's secondary, its primary and others in nearby CoedyBryn, Aberbanc, Pontsian and Capel Cynon.
'Disillusioned'
Campaigners have accused the local authority of not listening to their objections, and complained the move would not be debated by the full council.
But the council said parents had been consulted widely.
It also said the full council had voted in favour of "endorsing the principles" from a feasibility study into the all-through scheme.
Gethin Jones, a parent at Ysgol Pontsian, said: "The (council) cabinet's decision to establish a three to 19 school in the Llandysul area and close Aberbanc, Capel Cynon, Coedybryn, Llandysul and Pontsian primary schools won't be debated by the full council.
"This leaves parents dismayed and disillusioned with their local authority. We thought that such a profound and radical decision merited a full and frank debate by the full council.
"Parents feel that their views have been totally ignored and that the decision has been made on the quiet to avoid searching questions or the chance of alternative options being looked into."
The council decision has also been criticised by the Welsh language pressure group Cymdeithas yr Iaith Gymraeg (Welsh Language Society).
Meanwhile, a proposal to replace seven schools in the Tregaron area with an all-through system has been deferred until 6 July.
A feasibility study chaired by former Ceredigion MP Lord Elystan Morgan was carried out into the "all-through" scheme.
A subsequent report said secondary schools in Llandysul and Tregaron were not up to standard, and cost per pupil figures for primary and secondary levels in the towns and their catchment areas was among the highest in Wales.