Casquets lighthouse off Alderney may go green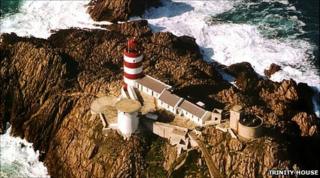 The Casquets lighthouse, off Alderney, may soon be shining less brightly if a project to make the site more environmentally friendly goes ahead.
Trinity House, which maintains lighthouses in the British Isles, may replace the diesel generators with a battery charged by a solar panel.
A team from Trinity House visited the site to investigate the feasibility.
Ian Tutt said: "We are reducing the range slightly of these lights, but not so much as to affect safety."
A lighthouse was first built on the Casquets rocks, infamous among mariners as the site of many shipwrecks, 13km north-west of Alderney in 1724.