Hot weather scores more sales than World Cup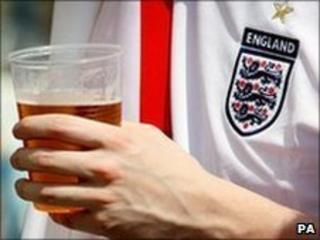 A prolonged period of hot weather is more significant for shops than England's early exit from the World Cup, according to retail analysts.
England's defeat to Germany in the first knock-out stage of the tournament coincided with one of the hottest days of the year in the UK.
And analysts say that a barbecue summer will give a significant boost to clothes and garden equipment sales.
However, some supermarkets would have banked on England progressing further.
Viewing
Sales of televisions and food ahead of the World Cup were highlighted as a key reason for a strong increase in retail sales in May. Sales volumes rose by 0.6% from April, which was higher than expected.
However, many supermarkets would have planned for England to reach at least the quarter-final stage of the competition, and might now find they have a surplus of certain products.
As a result football merchandise is now being sold off relatively cheaply, according to Greg Hodge, retail director at Planet Retail.
He added that some electrical retailers who offered discounts for televisions based on England's performance would have done well out of their failure to score many goals.
Maureen Hinton, lead analyst at Verdict Research, said that the high temperatures at the weekend were more significant for sales of barbecue food than the football, which would have encouraged people to sit in front of the television "with beer and a pizza".
It also helped clothes retailers shift their summer wardrobes.
"Seasonal items sell at the time retailers want them to, so they are not left with a large amount of stock," she said.
Garden centres and outdoor furniture retailers would benefit from an extended hot spell, she added, although people would tend to make only swift visits to department stores when the weather was so good.
"There are always winners and losers in the sector," she said.
Meanwhile, cinema operator Cineworld said it expected to draw back filmgoers after the World Cup caused a slump in revenue growth.