Cuts to Medway Council's services unveiled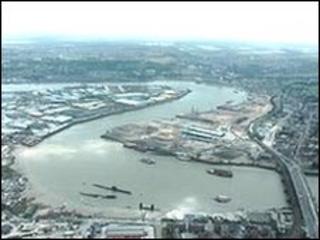 Fifty jobs are to be axed and frontline services cut across the Medway area, a local authority has said.
Medway Council said it must find the savings after the government last month reduced its grant by £6.1m.
Projects to support struggling schools, road safety measures and initiatives to reduce teenage pregnancies are among those areas facing cuts.
The Conservative-controlled council said it had been left with "no option" but to cut services.
Frontline services
Deputy leader Alan Jarrett said: "We could cut back on our highways maintenance, we could close libraries, we could close leisure centres.
"There's a whole raft of options in front of us and we have to decide as politicians which of those unpalatable options is the most palatable.
"To be quite frank, were we given the choice we wouldn't be doing any of this, but actually we don't have that choice."
He added: "Local authorities like Medway that are lean and efficiently run... it's absolutely not possible to make reductions in the multi-millions and not affect some frontline services."
The council's budget proposals will be discussed at a council meeting on 29 July.
'Hardworking families'
It proposes cutting £450,000 from children's services, £100,000 from public health and £828,000 from a budget to support struggling schools.
Medway Children's University, which offers out-of-school activities for young people, will be scrapped.
In addition, a further £1m will be cut from the capital investment programme, which will affect improvement schemes to Eastgate House in Rochester and Gillingham Park.
Deputy Labour leader Glyn Griffiths said: "It's clearly evident that the Tories are living up to their reputation as being unconcerned about public service.
"They are cutting really important issues that are going to affect hardworking families. This is simply too much too soon and is likely to push the country back into recession."