Rio shanty town dwellers wary of rehousing plans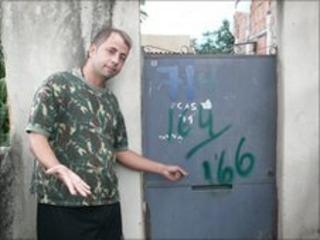 Ten years ago, Jorge Lemos was told by the authorities in the Brazilian city of Rio de Janeiro to abandon his house as it was built in an area at high risk of landslides.
Reluctantly Mr Lemos complied and built another house a little further down the slope in the shanty town where he lived.
Now, history seems to be repeating itself.
In April this year, disaster struck: the heaviest rains in Rio for decades triggered mudslides in numerous shanty towns or favelas, including in Mr Lemos's neighbourhood. It brought down half of his house, and the few walls that still stand can collapse any time.
Mr Lemos moved his family to a friend's home and is waiting for a new flat promised by the government - a promise made to all those who lost their houses or live in high risk areas.
"Right after the mudslides government officials came here and promised us money and a new home," Mr Lemos says. "Then they disappeared and were never seen again."
Mr Lemos says that the government's silence does not come as a surprise to him.
"I am still waiting for part of the compensation for my other house, demolished 10 years ago," he said.
'Disastrous rehousing'
Local authorities estimate that 24,000 residents of Rio de Janeiro live in high risk areas.
After the latest mudslides in April, the government said said that all would have to leave from their homes - and would be removed by force, if necessary. The plan is to move them to new housing units yet to be built.
Many people in Rio agree that houses in dangerous areas should be vacated.
However, any talk about forced removals of favela residents is highly controversial. Compulsory moves during the 1960s, 1970s and 1990s were largely seen by many as a way of clearing poor people, says Jorge Barbosa.
He is the co-ordinator of the Favelas Observatory, an institute dedicated to the study of the slums.
"All the forced rehousing that happened in the past have been disastrous, with no exceptions," said Mr Barbosa.
"We have noticed that these attempts only worsened social inequalities."
When people had to move to faraway neighbourhoods, they lost their local connections, Mr Barbosa said.
"People lost their jobs, they had to spend more money to commute, lost their social networks and many other things," he said.
"The result was that the rehousing projects ended up as enormous favelas themselves."
Among these "new slums" is the shantytown Cidade de Deus, made famous by the 2002 movie City of God. It started out as a rehousing project in the late 1960s.
Half a century later it is one of the biggest and most dangerous favelas of Rio. The police managed to regain control of the area only a few months ago, wresting it from drug barons who had dominated it for many years.
Marked doors
The mayor of Rio de Janeiro, Eduardo Paes, insisted that things were different now. He said the city council has no intention to embark on large scale rehousing projects.
"Our plan is to fix the areas so people can go on living there," Mr Paes told the BBC. "I believe that this will be the case with more than 99% of the slums."
The mayor said people will only be asked to move if they live in an area that cannot be protected from landslides and if their lives are in danger.
But in the shanty towns many fear that government has other intentions.
Elisa Brandao is the community leader of the favela Morro dos Prazeres (Hill of Pleasures). She said that many houses in good condition have been marked for demolition by workers sent by city hall.
"See those green numbers marked on the doors?" Ms Brandao pointed out. "These are the references for workers to come and measure the houses - and then bring them down."
Ms Brandao said that a lot of those buildings are in good condition.
"We have come to the conclusion that the city wants to move us because we are in a prime spot for real estate speculation," she added.
Many favelas have been built on Rio's steep hills, giving them amazing views and easy access to many areas of the city.
Ms Brandao agreed that some house will have to be abandoned because of the danger of landslides.
"But not that many people would have to leave if the authorities did some work to support the slopes," she said.
'Perfectly safe'
Fabio Pereira, for example, feels perfectly safe in the three-storey house his father built decades ago in Morro dos Prazeres. Yet he has been told that it will be demolished.
"My father started building this house when I was just born - 33 years ago," Mr Pereira said.
He also said he had had the building checked by a surveyor and been told that it was safe.
"I am not stupid or suicidal," Mr Pereira said. "If there were any cracks or problems with the house I would leave, but there aren't."
Mr Pereira cannot imagine how he would fit the whole family into one of the two-bedroom apartments the government is set to offer.
"It just does not seem right," he said, adding that he would only leave his home if he know he would not be worse off afterwards.
"No way will I swap my house for one of those tiny flats," Mr Pereira said.