Former RUC reservist is bailed over rape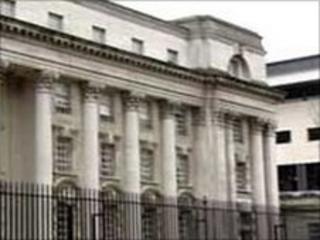 The High Court has heard that weapons were used to threaten and silence children at the centre of a major domestic sexual abuse inquiry.
Four people, including the parents of the five alleged victims, have been charged with a catalogue of child sex offences.
Former RUC reservist, Thomas Fitzpatrick, 50, who is not a family member, was granted bail on Wednesday.
Mr Fitzpatrick is accused of rape, indecent assault, and threats to kill.
Prosecutors claimed the mother of the five alleged victims may have worked as a prostitute in the family home.
Some of her children have attempted suicide and been left psychologically traumatised by the years of abuse, a judge was told.
Nearly all of the offences are alleged to have been committed between 1983 and 1986.
A total of 17 people have either been arrested or questioned by police investigating the claims.
During the bail application the Crown lawyer, Mrs McKay said the alleged victims were siblings who had been physically and sexually abused.
Mrs McKay told the court it was claimed the siblings were forced to perform acts on each other.
The ex-reservist is not a family member but was one of a number of men engaged in sexual activities with the children's mother, she said.
According to Mrs McKay the mother may also have been involved in prostitution, with men visiting homes across County Down where the family lived over the years.
She said it was unclear to what extent, if at all, any of them were linked to the alleged abuse.
The barrister also claimed a regular theme during the years in question involved the children being threatened not to talk about it.
"This extended to the use of weapons to reinforce the threat," she said.
Bail was granted after the judge heard the accused has a clear record and was never the subject of any similar allegations.
Although potential interference with witnesses was not considered an issue, the man was ordered to have no contact with any complainant.