Man who went on the run after Bolton fire threat held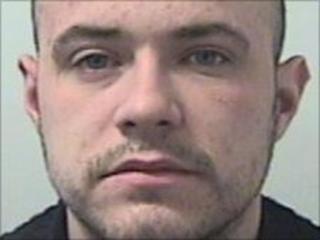 A man who went on the run twice after admitting intimidating witnesses to a fatal house fire has been arrested.
Simon Buckley, 24, of Tonge Moor Road, Bolton, went missing after he was bailed at Bolton Crown Court.
He was arrested on 18 June, but the next day he was bailed again and failed to appear once more for sentencing at Bolton Crown Court on Friday.
Greater Manchester Police said Buckley was arrested in the early hours of Wednesday morning.
The Crown Prosecution Service (CPS) was criticised for not challenging Buckley's bail the second time.
When he appeared in court the day after his arrest on 19 June, the CPS did not put a case forward to remand him in custody and he was released on bail again.
At Bolton Crown Court on Friday, Judge Steven Everett described the decision to grant him bail a second time as "utterly inexplicable".
The fire, in Little Holme Walk, Great Lever, Bolton, killed Hameeda Begum, 71, and her four-year-old granddaughter Alana Mian in June 2008.
A wheelie bin was set alight in the early hours and pushed up against the front door of the house.
Mrs Begum died in the fire and Alana, who was visiting from Sydney, died in hospital six weeks later.
Alana's mother, Saima, suffered serious burns but has recovered.
Firebomb threat
Buckley, his girlfriend Tracey Peers-Holland and a 16-year-old boy went to the house of a murder investigation witness on 14 October 2008.
Police said Buckley told the man who lived there: "I'm Simon and when I find out who has been giving statements I will firebomb their houses."
He was charged with witness intimidation, which he admitted.
Peers-Holland, 26, of Hawthorn Road, Bolton, also admitted witness intimidation at the same hearing.
She was sentenced to 12 months in prison, suspended for two years, and ordered to do 200 hours of unpaid work, at Bolton Crown Court.
A 16-year-old boy, from Bolton, who cannot be identified because of his age, was given a nine-month referral order, after admitting affray.
A girl, 17, was also charged with witness intimidation but the case against her was dropped.
Although four people have been charged with witness intimidation during the police inquiry, no-one has been charged over the deaths.