Oaxaca in southern Mexico shaken by 6.2 magnitude quake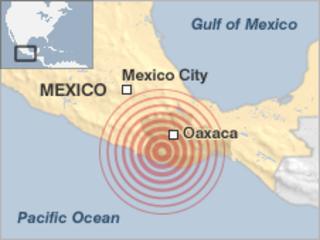 A 6.2 magnitude earthquake has struck the southern Mexican state of Oaxaca.
The quake, which hit at 0222 local time (0722 GMT), also rattled buildings in Mexico City, some 355km (220 miles) away, sending people on to the streets.
Oaxaca civil defence officials said they had not had any reports of injuries or major damage.
The quake's epicentre was some 120km (75 miles) west-south-west of the city of Oaxaca, the US Geological Survey said.
The earthquake, which was initially classified as magnitude 6.5 but revised down to 6.2, hit when many people were asleep.
"People came running out of the building," Pedro Salazar, a security guard in Mexico City, told Reuters news agency.
In Oaxaca itself, a spokesman from the civil defence department, Gilberto Lopez, told the Associated Press that they were assessing the situation but did not yet have reports of damage or injuries.
The epicentre of the earthquake, which struck at a depth of 20km (12.4miles) was in a mountainous area near Oaxaca's southern Pacific coast, the USGS said.
"It was pretty strong," said Jorge Cervantes, a security guard at a hotel in Pinotepa Nacional, the town closest to the epicentre.
"Some guests went downstairs but the building is fine and nobody is hurt," he told Reuters.
Mexico lies on the Pacific "Rim of Fire", where continental tectonic plates meet, and is regularly shaken by tremors.