Russia plays down US spy arrests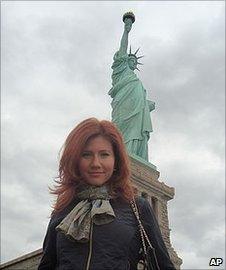 Moscow has played down the arrest of alleged Russian spies in the US, saying the issue would "not negatively affect relations".
The Russian foreign ministry said it had "noted" a similar White House statement that ties should not be hurt.
Russia had said on Tuesday that the US charges were baseless and a throwback to the Cold War. PM Vladimir Putin said US police had "let themselves go".
Ten people were arrested in the US and one in Cyprus after an FBI inquiry.
A Russian foreign ministry spokesman, quoted by the Interfax news agency, said on Wednesday: "We expect that the incident involving the arrest in the United States of a group of people suspected of spying for Russia will not negatively affect Russian-US relations.
"In this connection, we take note of the statement of White House official representative Robert Gibbs."
On Tuesday Mr Gibbs said: "I think we have made a new start to working together on things like the United Nations, dealing with North Korea and Iran.
"I do not think that this will affect those relations."
US Assistant Secretary of State for European Affairs Phil Gordon echoed Mr Gibbs, saying: "We're moving towards a more trusting relationship. We're beyond the Cold War; our relations absolutely demonstrate that."
But he added: "I don't think anyone was hugely shocked to know that some vestiges of old attempts to use intelligence are still there."
Russia had initially reacted strongly to the allegations, rejecting them as groundless and saying they could damage the attempts to "reset" US-Russian relations.
Mr Putin had said he hoped the new relationship would be "preserved", but he also said: "Your police have let themselves go. They are putting people to prison."
Russian media on Wednesday said the issue reflected a rift between the FBI and the Obama administration.
The Moskovsky Komsomolets said "the main target in this story is Obama who has a lot of ill-wishers in his own country".
Kommersant said top Russian officials had been ordered not to comment on the matter.
The 10 people arrested in the US are accused of conspiracy to act as unlawful agents of a foreign government, a crime less serious than espionage but which carries up to five years in prison.
Eight also face a charge of conspiracy to launder money.
The 11th suspect, arrested on Tuesday on the Mediterranean island of Cyprus, is awaiting extradition to the US on suspicion of espionage and money laundering.
The arrests came just days after a US visit by Russian President Dmitry Medvedev.
Sources in the US say the FBI had had to move because one of the suspects, reported to be 28-year-old Anna Chapman, was set to leave for Moscow.
Ms Chapman has been painted as the femme fatale of the alleged spy ring, with several glamorous photos posted on her page on the Facebook social networking site.
She was reportedly lured to a Manhattan coffee shop by an undercover FBI agent after which, in an intercepted phone call, she was told her cover may have been blown and she should leave the US.
Assistant US Attorney Michael Farbiarz told Associated Press that Ms Chapman was "someone who has extraordinary training, who is a sophisticated agent of Russia".
He said the arrests were "the tip of the iceberg" of the workings of Russia's SVR intelligence agency.
According to US court papers, most of those arrested purported to be citizens of the US or Canada.
The 11 were allegedly part of an operation where agents posed as ordinary citizens, some living together as couples for years. In security circles such agents are known as "illegals" or "sleepers".
They were allegedly trained by the SVR to infiltrate policy-making circles and collect information, according to papers filed in New York.
Investigators say some of the agents had been using false identities since the early 1990s, using codes and engaging in advanced computer operations, including posting apparently innocent pictures on the internet which contained hidden text.
Five of the suspects briefly appeared in a Manhattan federal court on Monday, where a judge ordered them to remain in prison until a preliminary hearing set for 27 July.
These included Ms Chapman, a couple known as Richard Murphy and Cynthia Murphy, who were arrested in Montclair, New Jersey; and Vicky Pelaez and a man known as Juan Lazaro who were arrested in Yonkers, New York state.
Another three - Mikhail Semenko and a couple known as Michael Zottoli and Patricia Mills - appeared in a federal court in Alexandria, Virginia, after being arrested in Arlington, Virginia.
The final two people - a couple known as Donald Howard Heathfield and Tracey Lee Ann Foley - were arrested in Boston, Massachusetts, and appeared in a federal court in the city.
All the suspects except Ms Chapman and Mr Semenko have also been charged with conspiracy to commit money laundering.
Related Internet Links
The BBC is not responsible for the content of external sites.