Tilda Swinton 'not' backing new curriculum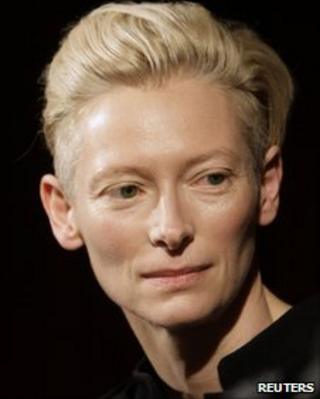 Actress Tilda Swinton is not taking part in talks to develop the Scottish government's controversial Curriculum for Excellence, it has emerged.
The curriculum shake-up is designed to give teachers more freedom and make lessons less prescriptive.
The actress was said by the Scottish government to have agreed to share her knowledge of the arts with teachers to try to inspire pupils.
The government has now said there was "some misunderstanding".
Ms Swinton was one of several "inspirational" public figures invited by the Scottish government to sit alongside teachers in "excellence groups."
Ms Swinton, who won an Oscar for Best Supporting Actress for her role in the film Michael Clayton, was lined up alongside film-maker Mark Cousins to join the Expressive Arts Excellence Group.
Further discussions
Scottish Education Secretary Mike Russell said: "I had a productive meeting with Tilda Swinton and Mark Cousins last week.
"Unfortunately, it appears that there has been some misunderstanding about the final outcome of that meeting."
Mr Russell said the pair had agreed to further discussions on film education and added that they would meet again in the near future.
Former Scottish Parliament presiding officer George Reid, television presenter Amanda Hamilton and broadcaster and historian Fiona Watson have been recruited to join the excellence groups.
They will produce reports with recommendations on how teaching in a subject should be developed.
The introduction of the educational programme in secondary schools in the autumn has attracted much criticism.
Teaching unions are discussing industrial action and, alongside the Scottish government's political opponents, have complained about a lack of preparedness.
The government responded by announcing more training and extra funding aimed at helping teachers prepare for the changes.