Israel 'to expand' powers of Gaza flotilla inquiry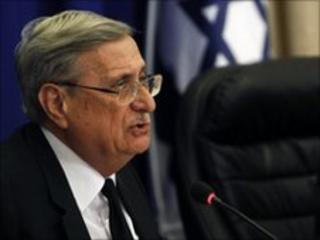 Israel is ready to expand the powers of an investigation panel into its deadly raid on a Gaza-bound aid flotilla, PM Benjamin Netanyahu has said.
His statement followed Israeli reports that the head of the panel, Yaakov Tirkel, had threatened to resign.
Mr Tirkel has demanded that the panel be recognised as a state commission of inquiry with the power to subpoena witnesses and recommend sanctions.
He also wants two more members added to the five-member panel.
Demands
Israel set up the internal inquiry earlier this month, after an international outcry over the 31 May interception of an aid ship in international waters that left nine Turkish activists dead.
Israel has rejected UN calls for an international probe, but has agreed to include two foreign observers in its own inquiry.
Mr Tirkel said on Monday that the commission would summon Prime Minister Benjamin Netanyahu to testify, along with Israel's defence minister and military chief of staff.
He also sought two assistants for the three members and two foreign observers that make up the panel, whose work officially started on Monday.
Israel television and press reports said Mr Tirkel, a retired Supreme Court judge, had told Justice Minister Yaakov Neeman that he would quit the post if his demands were not met.
Response
Sources close to the inquiry have denied the reports, but the prime minister issued a statement on Tuesday saying the cabinet was ready to grant the commission's request to allow it to subpoena witnesses and have them testify under oath.
"There is no reason not to give positive consideration to this request," Mr Netanyahu's statement said, adding that the cabinet would also consider the request for additional members on Sunday.
But it specified that the extended mandate would not allow the panel to investigate any soldiers involved in the flotilla raid, citing security considerations.
The scope of the investigation is limited to determining the legality of Israel's sea blockade of Gaza, its deadly raid in international waters, and the actions of the activists and the aid flotilla's organisers.
Israel says its commandos boarded one of the Turkish-sponsored vessels last month to enforce its blockade on Gaza aimed at preventing weapons from reaching Hamas militants.
It says the soldiers opened fire when activists assaulted them with knives and clubs, claims the activists deny.
Israel has since eased its three-year land blockade of Gaza, while continuing to enforce a naval embargo of the coastal territory where 1.5 million Palestinians live.