Burundi opposition leader Rwasa admits he is in hiding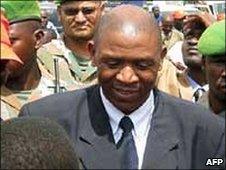 Burundi's main opposition leader and former rebel leader Agathon Rwasa has confirmed that he has gone into hiding.
In a taped message sent to a local radio station, Mr Rwasa said he had fled because he feared for his safety.
He went missing a week ago, ahead of Monday's presidential elections won by incumbent Pierre Nkurunziza - the only candidate.
The election was the second major vote since the end of the country's brutal 12-year ethnic-based civil war.
Diplomats have warned that the country is still in danger of slipping back into conflict.
Correspondents say turnout seemed lower in Monday's poll compared to local elections last month.
A group of 12 opposition parties claimed those polls were rigged and pulled out of the presidential ballot.
The election commission said that about 92% of the votes in Monday's presidential ballot were in Mr Nkurunziza's favour and turnout was 76%.
Mr Rwasa, who signed a peace deal last year to lay down his arms, did not say where he was, although he is reported to be in neighbouring Democratic Republic of Congo.
When he first went missing, his party said he was "on holiday".
"They're looking for me because I told the truth, because I said publicly that I don't accept the results of the local elections," AFP news agency quotes Mr Rwasa saying in the radio broadcast.
"[Last] Wednesday they wanted to arrest me again. I got wind of it and I disappeared from circulation," he said.
Both President Nkurunziza and Mr Rwasa led mainly Hutu rebel groups fighting against the army which was dominated by the Tutsi minority during the civil war.
Mr Rwasa refused to end the fighting when other warring factions set up a power-sharing government followed by elections in 2005.
He only led his National Liberation Forces (FNL) in disarming in April 2009 and was widely thought to be the key challenger to President Nkurunziza.
An estimated 300,000 people are believed to have died during the civil war.
Related Internet Links
The BBC is not responsible for the content of external sites.