Maldives president and opposition trade charges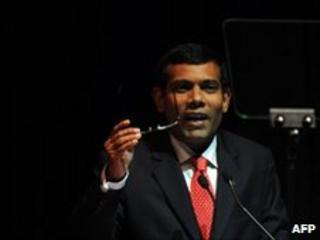 Opposition politicians in the Maldives have accused President Mohamed Nasheed of trying to undermine parliament.
Two opposition MPs have been arrested on charges of corruption and the government is alleging that they are conspiring against the state.
On Tuesday all cabinet members resigned in protest, complaining that parliament was blocking their initiatives.
The Indian Ocean island state is now the scene of a serious power struggle between the president and parliament.
Parliament is dominated by those opposed to the president and supportive of the former ruler, Maumoon Abdul Gayoom.
Lawmakers Abdullah Yameen Abdul Gayoom and Quasim Ibrahim were arrested on Tuesday.
A presidential spokesman told the BBC that the MPs were being held on charges of corruption which, he said, were tantamount to blocking the affairs of state and even to trying to topple the government.
But an opposition leader accused the government of constantly trying to bypass the chamber, for instance in selling off state assets.
Meanwhile, local residents say hundreds of the president's supporters are massing in the streets.
The security forces have issued a statement saying they will assist those responsible for law enforcement.
Their presence on the streets has been stepped up but only moderately.