Sri Lanka sets out budget aimed at cutting deficit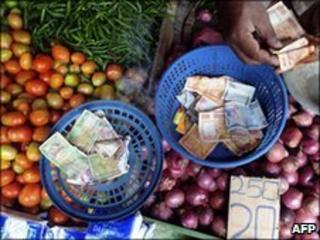 Sri Lanka's government has unveiled its first budget since being re-elected, aimed at reining in the public deficit.
But it plans to maintain high defence spending following the island's 26-year civil war with Tamil Tiger separatists.
Sri Lanka is under pressure to balance its books from the International Monetary Fund (IMF) which approved a $2.6bn (£1.8bn) bail-out last year.
The IMF released the latest tranche, worth $407.8m, after getting assurances on tax reforms and spending cuts.
Koshi Mathai, the IMF's resident representative for Sri Lanka and Maldives, told the BBC's Sinhala service that the organisation was "encouraged" by the government policy proposals.
Deficit forecasts
The budget for 2010 had been due last November but was delayed because of presidential elections.
President Mahinda Rajapakse and his United People's Freedom Party were re-elected earlier this year, having promised to foster economic development.
Junior finance minister Sarath Amunugama told parliament that the government would cut the deficit to 8% of gross domestic product (GDP) this year from 9.9% in 2009.
Pledges in the budget included:
Maintaining defence spending at about $1.65bn
Restructuring debt-ridden state-owned energy businesses
Raising taxes on tobacco, alcohol and wheat
Halving import duties on vehicles and electronic goods to spur economic growth
Freezing state salary increases until next year
Developing tourism, housing and rural areas during the next six years.
A budget for 2011 is due later this year.
'Unattractive'
Mr Amunugama said that in the medium term, the government planned to bridge the budget gap by widening the tax net while introducing a "more business-friendly" tax system with simpler rules and lower levels for income and company tax.
"Our tax system is outdated, complex, narrowly-focused and unattractive to investment and business development," he said.
He added that Sri Lanka was looking to move away from traditional markets for its garments after the European Union said it would not extend preferential trade status unless the country gave a written pledge to improve its human rights record.
"This country needs to reduce the over-reliance on traditional markets and move toward new economies," he said.
'Market fundamentalist'
Economist and opposition MP Harsha de Silva accused the government of being dictated to by the IMF.
"There is nothing for the people of this country in this budget," he told the BBC.
"It is essentially an IMF budget. The IMF executive board approved this budget. This is the first budget without any budget proposal. It is a totally market fundamentalist IMF budget."