Manchester College lecturers go on strike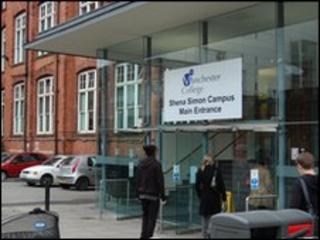 Lecturers at a further education college in Manchester have gone on strike in a row over terms and conditions.
Members of the University and College Union (UCU) at The Manchester College were on picket lines at the Openshaw campus from 0730 BST.
The protests moved to the Shena Simon campus later, followed by a rally at the Mechanics Institute at 1200 BST.
The strike is over plans to introduce two different contracts for staff.
Staff teaching adults would be on different contracts to those teaching 14 to 19-year-olds.
The college said the contracts were needed to protect its future but the union said the plans were "unworkable" as many staff teach both groups.
'Little option'
UCU president, Alan Whitaker said: "UCU members here at Manchester have been left with little option but to take strike action.
"We are proud that members are taking this action and they have the full backing of the national union.
"The proposed contracts would lead to a two-tier workforce and leave the college open to potential discrimination and dismissal claims.
"This is not in the interest of staff or students and it is essential that we resolve this dispute quickly."
The Manchester College de-recognised the union last month, after the union placed an advert in a newspaper about their concerns.
A spokeswoman for the college said: "The aim of the contract changes is to minimise job losses by increasing efficiencies.
"The changes only impact significantly on approximately a quarter of the workforce (28%) and some staff will be required to do more teaching, but they will still have very substantial holidays.
"However, it should be noted that a larger proportion of staff will actually have improved terms and conditions."
She said the college was working with staff and have followed legal procedures.
She added: "Of the 791 teaching staff this involves, only 40 are currently refusing to sign the new contract."
She said only 99 members of staff - from a total of 3,000 - members were on strike.