HMV sees sales and profits soar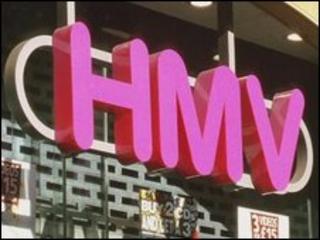 Entertainment firm HMV has said its total sales grew by 3.1% to a record £2bn in the past year.
Its pre-tax profit was also up 17.7% to £74.2m in the year to 24 April, with chief executive Simon Fox calling the performance "pleasing".
But like-for-like sales in the UK and Ireland, which strip out the effect of new stores, were down by 2.4%.
And like-for-like sales at the firm's Waterstone's book store chain were down by 6.2%.
However, HMV says it has formulated a turnaround strategy for the Waterstone's stores, which are now under a new management team.
'Three pillars'
HMV also said its move into the live venues market had proved successful, with the purchase of venue owner MAMA Group for £46m this January having strengthened its position.
Mr Fox said the the "three pillars" of HMV's strategy to "evolve its product mix" - namely the growth in live events and ticketing, and the turnaround in Waterstone's - were progressing on track.
"We continue to position the group for the changes that are taking place in our markets," he added.
A three-year "transformation plan" had earlier been unveiled by Mr Fox in March 2007 in response to falling CD sales and the growth of illegal music downloads.
The firm has also been helped by the collapse of rival music retailers Zavvi and Woolworths during the recession.