Plankton blooms draw jellyfish to Cornwall beaches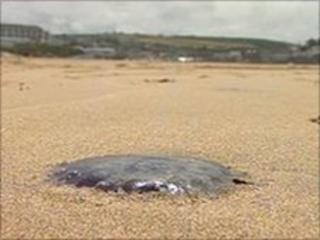 Hundreds of jellyfish have been washing up on beaches across Cornwall.
Wildlife experts said the creatures were coming close to shore to feed on plankton blooms caused by the recent spell of warm weather.
Moon, compass, blue and lion's mane jellyfish have all been spotted locally.
Beach lifeguards from the RNLI are going to local schools to offer children advice about the jellyfish.
RNLI spokesman Andy Thomas said although some species could deliver a very painful sting, most were not dangerous.
"Everyone seems to be concerned about how dangerous the jellyfish might be," he told BBC News.
"I've been stung while swimming, but it was just like a nettle sting, so there's nothing really to worry about."
Anyone who is stung on a beach with lifeguards should seek assistance from them, the RNLI said.
In rare cases, those with any complications or serious stings would be advised to seek further medical assistance.
Cornwall Wildlife Trust said swimmers and beach users should avoid the jellyfish completely if possible.