Kashmir minister defends police over civilian deaths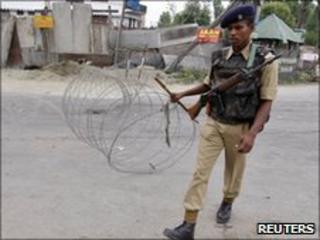 The chief minister of the Indian state of Jammu and Kashmir has defended paramilitary police accused of killing unarmed civilian protesters.
Omar Abdullah said that the security forces could not be expected constantly to show restraint when they were so often pelted with stones.
There have been 10 civilian deaths at the hands of the security forces this month in Indian-administered Kashmir.
Many of the deaths have been blamed on the Central Reserve Police Force.
'Exploited'
"Repeated attacks on the Central Reserve Police Force (CRPF) are making it difficult for us to control the situation," Mr Abdullah said.
The BBC's Altaf Hussain in Srinagar says that the chief minister's comments represent a significant about-turn by the state government.
Earlier this week, Jammu and Kashmir Law Minister Ali Mohammad Sagar accused the CRPF of firing their guns without reason and of being unruly.
Our correspondent says that both the state and the central governments are increasingly concerned about the latest violence, which took place amid some of the biggest anti-India protests in Indian-administered Kashmir for two years.
Mr Abdullah appealed for calm and said young people were being "exploited" in the protests by anti-India forces.
"My appeal to everyone is to help the government restore law and order as soon as possible," said the young British-born politician, who came to power last year promising to improve human rights.
An indefinite curfew has been imposed in many towns across the region, which Mr Abdullah said was necessary to prevent further violence.
A general strike is also being held throughout Indian-administered Kashmir to protest against civilian deaths.
Shops across the Kashmir Valley are closed and traffic is suspended.
On Tuesday, thousands of police in riot gear patrolled Srinagar while paramilitary soldiers drove through neighbourhoods warning people to stay indoors and not participate in the protests.
But the sense of tension has not stopped a group of about 1,200 Hindu pilgrims from making their annual pilgrimage to Amarnath Shrine in the south of the state.
The pilgrims have over the last decade regularly risked being targeted by militant separatists.
Anti-India sentiment runs deep in Muslim-majority Kashmir, over which India and Pakistan both claim sovereignty and have fought two wars.
Hundreds of thousands of troops are based in Kashmir to fight a two-decade insurgency against Indian rule.