India bomb blast hurts eight policemen in Chhattisgarh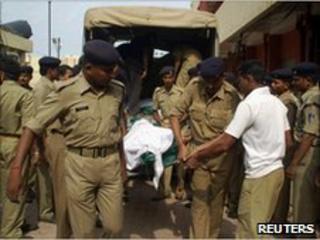 At least eight policemen in the Indian state of Chhattisgarh have been wounded by a Maoist bomb, police say.
They say that the incident happened in the Bijapur district of the state as they were defusing landmines.
Authorities in the state are meeting to review strategy after 26 policemen were killed on Tuesday by Maoist rebels.
The state chief minister has condemned the attack on the paramilitary Central Reserve Police Force (CRPF) as an act of "cowardice and barbarism".
Few details of Wednesday's bomb blast are available, but the BBC's Salman Ravi in the state capital Raipur says that police believe they were lured into the area by Maoist rebels so that they could be easily targeted.
The rebels say they are fighting for the rights of the rural poor.
They have carried out a spate of deadly attacks in recent months. In April, 76 CRPF members were killed in the state's Dantewada district.
In May, 145 people died when a train crashed in West Bengal after Maoists, also known as Naxalites, allegedly sabotaged the rails.
Prime Minister Manmohan Singh has described their insurgency as India's biggest internal security challenge.
'Cowardly act'
"The security personnel have laid down their lives to free the people from Naxal terror. Their sacrifice will not go in vain," the Press Trust of India news agency quoted Chhattisgarh Chief Minister Raman Singh as saying.
"The Naxals have carried out a cowardly act. People and groups having faith in human rights should condemn this act of murder in once voice," he said.
"The extremists lack moral courage to engage in a direct fight with our brave security forces," he added.
Mr Singh is meeting senior police and CRPF officials in Raipur on Wednesday morning.
Home ministry officials from Delhi are also meeting the chief minister to assess the situation.
The rebels began a two-day strike on Wednesday which has disrupted the states of Orissa, Jharkhand, West Bengal, Chhattisgarh and Bihar.
Maoist spokesman Comrade Raju told the BBC that the strike was in protest over Delhi's decision to raise the prices of petroleum products and over central government "indifference" to the plight of victims of the Bhopal gas tragedy in 1984.
Poor strategy
Tuesday's attack took place in Narayanpur district in the state's Bastar region on Tuesday evening, just 3km from a CRPF camp in Dhodai, 300km (190 miles) south of Raipur.
Correspondents say it was the third major Maoist attack on the security forces in the past three months and it puts the spotlight on the poor strategy of the security agencies.
According to reports, a group of nearly 70 troops had gone to clear roads of landmines.
They were attacked on their way back by a heavily armed group of about 200 rebels, officials said.
Police said the gun battle lasted three hours.
In May a Maoist landmine attack in Chhattisgarh destroyed a bus and killed more than 30 people, most of them civilians.
A government offensive against the rebels - widely referred to as Operation Green Hunt - began last October.
It involves 50,000 troops and is taking place across five states - West Bengal, Jharkhand, Bihar, Orissa and Chhattisgarh.
Ministers in Delhi have always accepted that there is a need to tackle the root causes of the rebellion, such as poverty and the absence of effective local government.