'Suburban spies' mocked by newspapers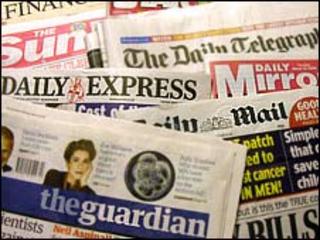 A "case of Operation Slapstick rather than the Kremlin at its best".
That's the Financial Times' verdict on the alleged "suburban spies" accused of carrying out espionage activities in the US on behalf of Russia.
The Independent agrees that the group "will not occupy a very exalted place when the definitive history of the second oldest profession is written".
As the Guardian bluntly puts it, they showed "a professional ineptitude worthy of Inspector Clouseau".
Prison reform
The Times says Justice Secretary Ken Clarke is "on a collision course with traditional Conservatives".
Why? Because he is suggesting sending fewer criminals to jail.
The Daily Telegraph thinks there are "undoubtedly some serious problems" within the system that have contributed to the explosion in the prison population in recent years.
But it says Mr Clarke's "overriding duty is to protect the general public", adding: "One thing remains true - while an offender is in jail, he cannot commit a crime."
'Arrogant squad'
More bad press for the England football team, as a photo in the Sun apparently shows players smoking cigars and drinking beer just after their World Cup exit.
"Where is your pride, lions?" it asks, claiming the "arrogant and underachieving squad need to take a long look at themselves".
The Daily Mirror says Fabio Capello has "fled the country" and gone on holiday.
The paper adds of the manager's departure: "It was a turn of pace that would have been useful in his leaden-footed team."
'Penny-pinching Prince'
The news that Prince Charles has halved his spending on taxpayer-funded expenses is welcomed by several papers.
"The cut-price Prince" is the Daily Mail's headline, saying the heir to the throne has "finally heeded calls to tighten his belt".
The paper says he has done it "by encouraging his official visitors to plump for finger buffets and bowl food rather than banquets".
The Daily Express brands Charles the "penny-pinching Prince".