England World Cup fan pays 'intruder' fine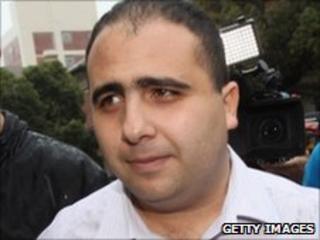 An England fan who walked into the team dressing room after the World Cup match against Algeria has paid an "admission of guilt" fine in South Africa.
Pavlos Joseph, 32, from Crystal Palace, south London, was accused of trespass.
Cape Town Magistrates' Court heard that Joseph paid a 750 rand (£65) fine on Tuesday, and as a result the charges against him were dropped.
The case against the Sunday Mirror's Simon Wright, who denies harbouring Joseph, has been delayed until 7 July.
The 44-year-old journalist is accused of sheltering Joseph from police and will appear charged with "defeating the ends of justice".
He has been granted 3,000 rand (£260) bail and has had his passport confiscated.
Joseph's defence lawyer Craig Webster said an agreement had been reached that the charge of breaching the Fifa Special Regulations Act should be withdrawn.
Mr Webster said: "The director of public prosecution has decided to withdraw the charges on the basis that an admission of guilt fine is paid. A 750 rand fine was paid by the accused yesterday."
'Orchestrated'
Joseph, who was accused of being in an area without being in possession of the necessary accreditation, was not in court.
Joseph entered the England dressing room at Cape Town's Green Point stadium after the team's 0-0 draw with Algeria on 18 June.
He said he was looking for a toilet when he took a wrong turn and found himself in the changing room.
Joseph claims he exchanged words with David Beckham before being escorted out.
National police commissioner Bheki Cele said Mr Wright had "admitted to harbouring and interviewing Mr Pavlos Joseph at a time when the police were searching for the latter in order to effect an arrest".
The journalist is also accused of providing false information when he booked a hotel room for Joseph.
Mr Cele said police believed the incident was "orchestrated" in order "to put the World Cup security in a bad light".
The Sunday Mirror said this was "entirely false" and their reporter had no dealings with Joseph before he entered the England changing room.